It is no secret that the cannabis industry is growing quickly and strengthening the economies of states and territories with legal adult-use and medical programs. After a banner year in 2020, when the cannabis industry pumped an estimated $17.5 billion into the US economy, an analysis from MJBizDaily forecasts as much as five times more revenue in 2021, to the tune of $92 billion. This expected growth is a huge win for cannabis, and is the ultimate push for legalized states to join the movement.
Let's dive in and see which states are going to have the most (and least) influence on what we expect to be a record-breaking year for cannabis.
California Cannabis Market – Leading the Way
First up is California, the largest player in the United States cannabis industry. The state of California is expected to generate close to $20 billion in revenue this year, a little over 21% of the total cannabis economy's value for 2021. Although sunny California will generate the most overall money, the state does not come to first for the highest impact per capita, following states like Colorado and Oregon, for example.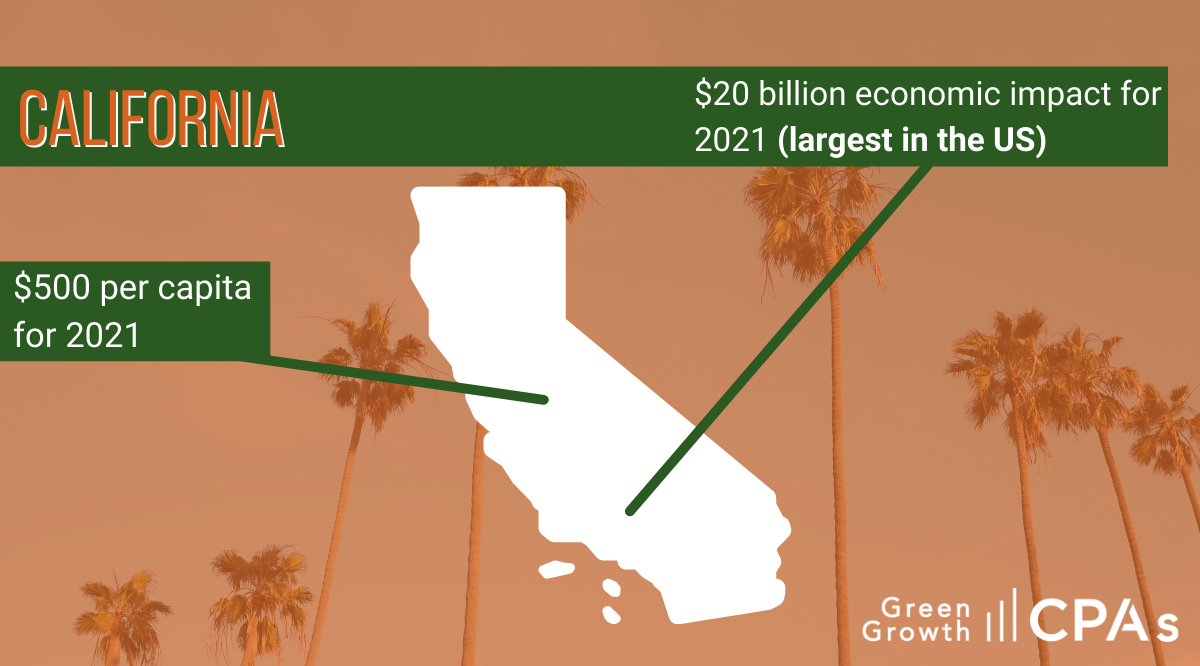 California also has a few other big plans for the cannabis industry this year. The biggest change is an attempt to combine the three cannabis regulatory agencies into a single entity. Since the launch of the adult-use market, California's cannabis regulations have been plagued by delays and overall disorganization. Housing all thing cannabis under one roof is expected to streamline processes. The new organization is set to debut this July.
The Rest of the Best Cannabis Markets
Next up is a similar group of states that are expected to generate the same range of economic impact this year – between $4.5 and $8.7 billion. These states are Washington, Oregon, Nevada, Colorado, Arizona, Illinois, Michigan, Maryland, and Massachusetts. Arizona is the surprising addition to this list simply because they only legalized adult-use last November. Credit to Arizona for building and rolling out an adult-use market so quickly. The ultimate lesson for state legislators watching is that cannabis legalization, when executed correctly, can immediately pump significant revenue into the local economy through consumer sales, jobs, and the development of cannabis zoned real estate.
It is worth noting that Nevada comes in first place as the state with the highest amount of economic impact per capita, with a whopping $1,917 per person projected for 2021. This is a combination of the fact that Nevada has a robust cannabis market despite it's comparatively low local population. The influx of tourists to Las Vegas and Reno help boost the cannabis economy.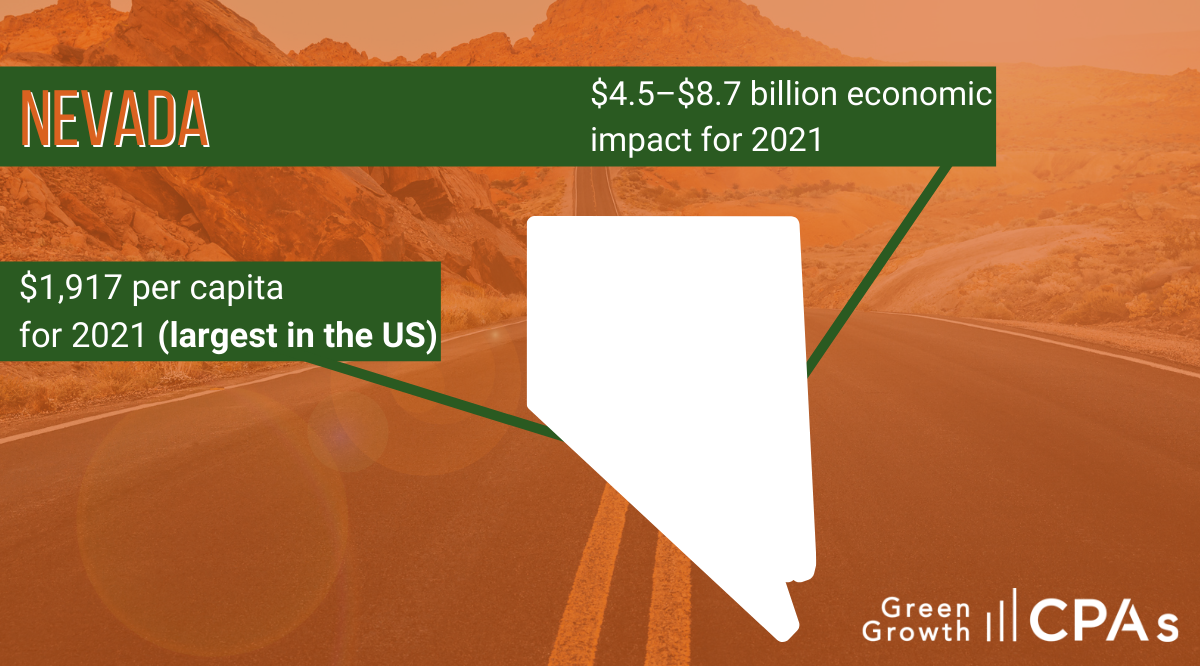 The Middle of the Pack for State Cannabis Revenue
Following the top states, there is a group that should be watched very closely as their cannabis economies begin to flourish in 2021. These states include Alaska, Montana, New Mexico, Missouri, Arkansas, Ohio, Oklahoma, New York, Pennsylvania, Florida, Maine, Connecticut, New York and New Jersey.
The cannabis industry is projected to experience major growth on the East Coast in the next couple of years. Expected to lead the way are the densely populated, often-visited, and newly legalized states of New York and New Jersey.
Which States will Generate the Least Economic Growth in 2021?
Although there is not enough data on states that have at least legalized medical cannabis, the group of states that are last in line based on the information available for economic impact in 2021 will be Hawaii, Utah, North Dakota, Minnesota, Iowa, Louisiana, Virginia, Vermont, New Hampshire, Delaware, and Rhode Island.
Iowa comes in last place for the amount of money that will be generated from the state's cannabis industry in 2021 with a slim $21 million.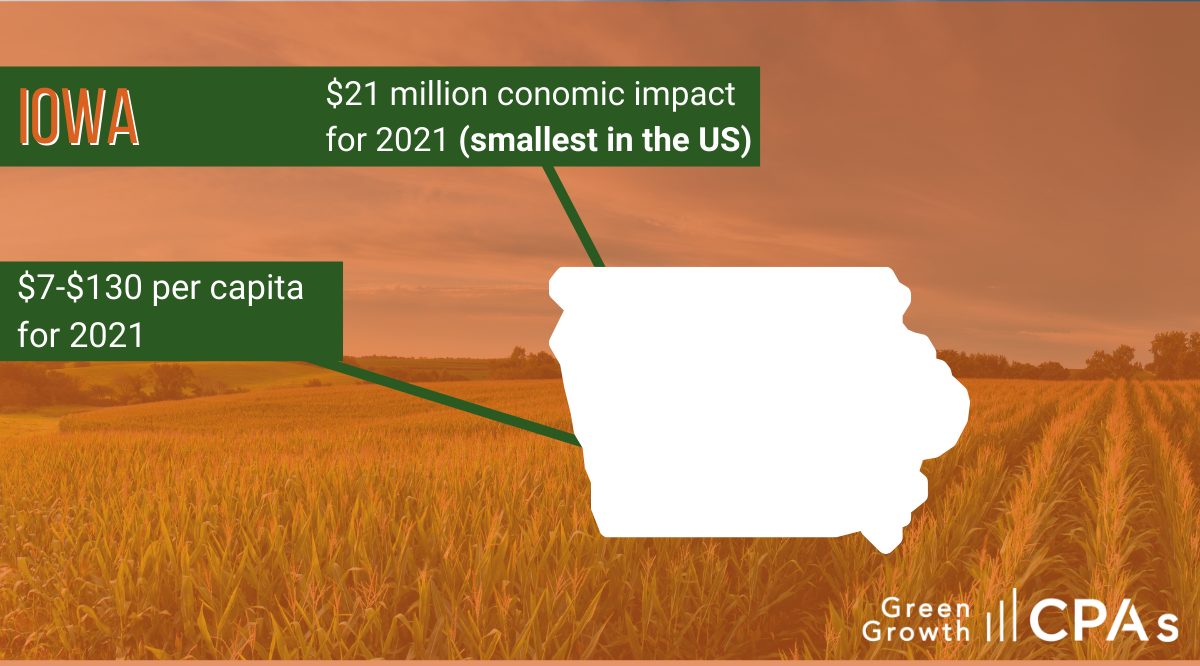 More Legalization in 2022?
The healthy tax revenue the cannabis industry drums up in each state that joins the legal market is something that should be celebrated. For every $1 a consumer puts into the economy from cannabis purchases, an additional $2.50 is pumped back into the economy. This 2.5X impact is yet another incentive for non-legal states to start thinking about jumping on the cannabis bandwagon. States that have not legalized cannabis are missing out on billions of dollars generated by cannabis taxes, jobs, and real estate.
The ultimate question becomes: what are they waiting for?
For more information and details on the analyses discussed, be sure to check out MJBizDaily's original reporting
Your blog post content here…