Less than a year after legal medical cannabis began arriving to Oklahoma in 2019, seven dispensaries found themselves in a new kind of jail over cannabis violations that were all too familiar to older, state-legal cannabis markets.
Violations of loosely defined and enforced community standards on social-media sites can lead to cannabis pages being "jailed" temporarily or shut down altogether without notice or recourse. This after cannabis businesses have painstakingly and organically spent months or years building brand awareness and influence through the slow accumulation of hundreds or thousands of followers.
So the seven Oklahoma dispensaries filed a lawsuit in Tulsa County District Court against the planet's biggest tech titans in the form of Facebook's senior-most executives and investors. The suit was abandoned just months later. But the exasperation in their court petition is shared across the now majority number of states with some form of cannabis decriminalization or legalization:
"Facebook has an arbitrary, subjective, discriminatory, and archaic policy. … It is just random. … There is no way for an individual or a business to contact anyone within Facebook to get assistance. They hide behind their keyboards and mete out whatever punishment they feel if they find that you have committed an infraction."
Worse for cannabis, there are no obvious indications for when the major social platforms might loosen these policies. Change is even't assured following federal cannabis reform, given that states will likely be left with significant latitude to regulate and outright prohibit cannabis as they see fit. Facebook even threatened recently to unpublish the page of comedy legend and cannabis grower Jim Belushi after it took down some of his posts.
For cannabis brands working hard to create brand equity and build an audience, there are a number of tools and methods available that circumvent major social media platforms and can go a long way toward achieving sales goals.
In the following we'll discuss those rules and provide some options for all types of cannabis operators. To be sure, many of the options and methods described below would obviously hinge on the rules for cannabis marketing and advertising in your area and any restrictions on the medium itself with respect to cannabis. If in doubt, contact your state's cannabis industry association for direction or consult with an expert. Just be sure any advisor specifically knows the rules for cannabis marketing and advertising.
Understanding what you can and cannot do in cannabis advertising
The final holdouts in the slow, modern march toward cannabis reform may not be the nation's most conservative states or even slow-moving Congress. Ironically, it could be the globe's biggest social-media companies, which are often lauded for having forward-thinking and progressive corporate cultures.
Their cannabis policies, by contrast, are falling behind as the nation and world rethink the wisdom of prohibition. In addition to businesses being "jailed," Facebook users regularly complain of not being able to locate or search for pages that discuss marijuana or cannabis.
Facebook says simply on its community standards page that it bars "content that attempts to buy, sell, trade, donate, gift, or solicit marijuana." The cannabis-policy page for Facebook-owned Instagram goes into greater detail:
"Our policy prohibits any marijuana seller, including dispensaries, from promoting their business by providing contact information like phone numbers, email addresses, street addresses, or by using the 'contact us' tab in Instagram Business Accounts. However, we do allow people to include a website link in their bio information."
Pinterest, YouTube, Twitter, LinkedIn, Snapchat, and TikTok all have variations of these policies, although some are more specific and easier to interpret than others. The first step to navigating these obstacles is to gain a complete understanding of what each platform is looking for as a content "red flag." All social media and content strategies should then be geared toward avoiding any specific triggers you can identify.
Build a following reporting and commenting on cannabis news
The trick on many — but not all — platforms is to not cross over into directly selling cannabis or cannabis products or telling people where to go to buy them.
YouTube, for example, says it has no objections to people smoking or ingesting cannabis and offering tips on how to do it. Posting links for where to buy goes too far. TikTok is more strict and broadly bans content that "depicts or promotes drugs, drug consumption, or encourages others to make, use, or trade drugs or other controlled substances."
Many of these policies at the same time leave room to get the job done for your cannabis brand. What neither cannabis policy at Facebook or Instagram prohibits is the dissemination of editorial content, news-based storytelling, or news and information that happens to discuss cannabis.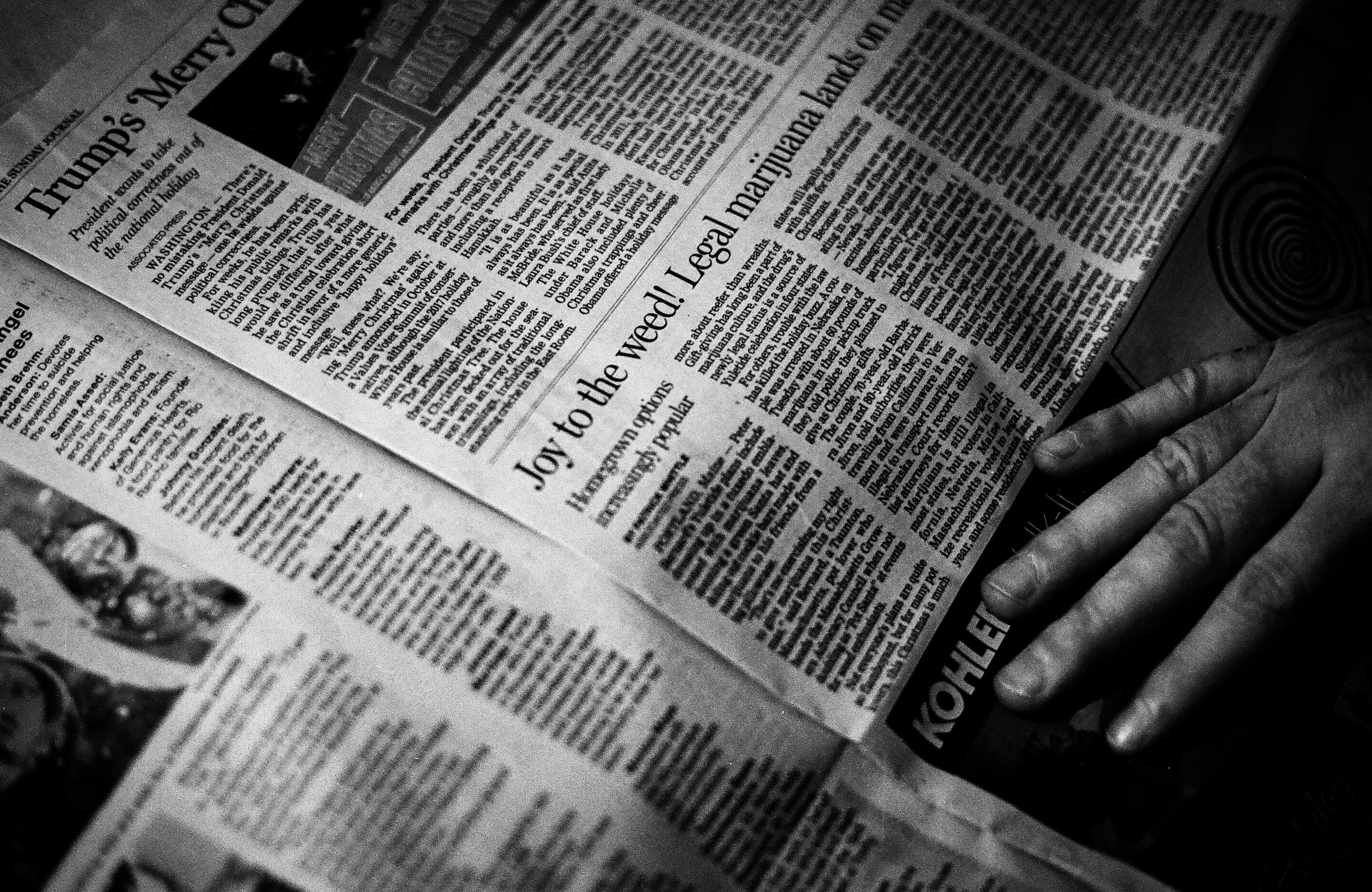 In fact, prohibiting such "newsy" content puts Facebook and Instagram in an undesired position of having to referee free
speech and determine what constitutes newsworthy information. That's different from regulating marketing and advertising content.
With social-media platforms now dominant in our lives, positive brand impressions are what you seek. Providing interesting, unique or funny commentary on industry news items is a proven tactic for building a strong following.
The biggest key to winning over an audience is to be original. There are any number of cannabis news outlets generating news stories (and with big social followings). You aren't going to win over an audience by simply regurgitating their content. Yours will need a specific perspective that does double duty of appealing to viewers, and reflecting your brand in a positive way.
News-related content can come in the form of blog posts on your website (which also helps with SEO), or take the form of video or social media content. An approach that utilizes all three distribution channels, building on and complementing each other, can be a very powerful marketing tool.
Top-notch cannabis email newsletters
Before Axios had a hit news show on HBO, it was an excruciatingly simple email newsletter targeting policy wonks, media and business professionals, and change makers, primarily in New York and Washington.
Founded by two former writers for the digital site Politico — wildly successfully in its own right — Axios placed a premium on email inboxes. Their Web posts were secondary to what became a carefully built network of email newsletters that each narrowly focused on key interest areas and were crafted by subject-matter experts.
The valuable information contained in the newsletters made them indispensable to their subscribers. Axios quickly became a must-read and was on HBO within three years of launch.
The reason is deceptively simple. Not every demographic uses the same social platforms. But every demographic has an email account and must check it with some amount of frequency.
Young adults need email to sign up for new apps, check school assignments and college applications, apply for jobs, and more. Every remaining demographic has an email account or several that they must check from time to time if not several times a day.
There are no express prohibitions on cannabis businesses using emails or email-newsletter platforms, of which there are numerous, to reach small but narrowly desirable audiences with simple content varieties that are meaningfully engaging, stimulating, and authoritative.
For cultivators, this could be periodic "dispatches from the farm" explaining each stage from seed to harvest or methods for achieving higher-quality soil. They could curate headlines on cultivation trends and policy updates, showcase the company's values and profile its employees, and list upcoming cannabis events.
For retailers/dispensaries, interesting product information, profiles of "budtenders," and of course, news of sales can all help engage your audience. Plus, you're probably capturing email and other information at the Point-of-Sale, so it should be easy to build a list. With the flurry of new products on the market, and the relatively low level of consumer knowledge, content that takes a real dive into explaining the differences between strains, compounds, and delivery devices can be very useful in building a loyal customer base.
The flip-side of this approach is that nearly EVERYONE has a newsletter. To be effective, you'll have to take steps to ensure your newsletter is original and engaging so you rise above the noise. An easy way to do this is to look at your own inbox. What brand emails or newsletters do you look forward to? Which do you unconsciously skip over and never open? Take a close look at what works and doesn't work in your own inbox and let that guide you.
Social accounts that tell a story
Social accounts can be harnessed in your favor and help build a brand over time that's perceived as trustworthy and authentic and stands out as an industry leader among competitors. Your branded social account, for example, can become an invaluable calendar of cannabis events that people go out of their way to check from time to time to make sure they're not being left out.
Your social feeds can become must-follow sources for updates on cannabis policy and regulatory changes in your community or state — newsy content that social-media companies would be highly reluctant to appear to be repressing.
Your feeds can be an entertaining journal that demystifies cannabis cultivation or processing to audiences wary of asking questions lest they sound stupid. They can chronicle new cannabis research. They can respond to local news stories about cannabis with fact versus fiction.
If you have a great origin story, this is the time to tell it. Are you the first business owner in your family? Were you the first woman or veteran-owned cannabis business in your community or state? Did you arrive to cannabis from a radically different career path that would surprise people?
Humans are hard-wired to crave storytelling. People watch the news for both the scary, negative stories that nonetheless inform them and the triumph-over-adversity stories that make them feel good.
In each example above, you're building a brand that with time becomes perceived as trustworthy, authoritative, and interesting enough to follow even for a consumer who might live clear across town from your dispensary or not be able to buy directly from your farm.
The consumer may choose to visit your dispensary next time they are in the area, because they've already developed a relationship of perceived trust with your brand. It's sometimes difficult to tell whether Red Bull is an energy-drink company or a media company, because it's so successful at communicating the message of its brand with both digital and legacy media tools.
In fact, thanks to digital technology, compelling videos and photos can now be shot on smartphones by small-business owners and no longer require expensive equipment and professionals. There are even now free and user-friendly tools available online that you can use to create attention-getting graphics for newsletters, Web sites, and social-media platforms.
Community guidelines from the social giants don't have to translate into missed opportunities for you to connect your brand with consumers. After all, Instagram's policy allows you to list your Web site in your bio just a click away from a good post.
In the case of both social media and emails, however, the content and subject lines must be engaging and stimulating enough that people will stop to take a look, even if only for a moment. The right number of moments may be all you need.
Become a source to local newsrooms
Traditional broadcast advertising is off limits to cannabis. But it would be a grave violation of free-speech rights if the government simultaneously attempted to prohibit editorial news coverage of cannabis.
Each news mention isn't just a mere advertising impression, it's again an opportunity for you to associate your brand in the minds of the public with trustworthiness and authority.
Your business can maintain a contact list for local TV newsrooms and newspapers. While less nimble than newer digital news sites, legacy news outlets still maintain broad regional influence and can be major drivers of local public perceptions.
Contact these newsrooms from time to time with brief story leads or offers to be an industry- or expert-source with a fresh perspective. Periodically send along brief, one-page press releases describing a facet of your business that makes it unique. Or call in with a thoughtful viewpoint or perspective if a public debate is occurring about a possible cannabis policy change.
For press releases, focus on a snappy or standout subject line and headline with active voice and think about the types of stories that local TV stations and newspapers need to tell in order to perform their jobs.
You might suddenly find yourself being quoted as an authority by every newspaper, TV station, and radio station in a region. A dollar figure can hardly be placed on the value of this kind of publicity when the online versions of these stories are shared for months or years after they first publish or air.
Out-of-home advertising
Included in this category is location or "place-based media." Think of ads at cinemas, theaters, bars, coffee shops, and restaurants, particularly those that are local and independently owned and not tethered to the advertising and promotional policies of chain and franchise businesses. Also in this category would be private limos and buses used nightly by different groups of revelers out for a good time and looking to spend money.
It's called "out-of-home" advertising, simply because it's not being consumed on a device or streaming service at home. As the cannabis-retail trade publication mg Magazine pointed out recently, people more than ever want to return to the more intimate and in-person lives they led before a full year of COVID lockdowns and isolation.
They're craving experiences for both long and short-term travel. They want to attend music festivals, eat at new restaurants, and experience new Marvel movies with other superfans at theaters. These are all opportunities for your brand that don't have to land you in Facebook jail.
As mg Magazine writes:
"The regulations that cannabis businesses must abide by shouldn't be viewed as a negative, especially when one of the most cost-effective mediums with the highest return on investment remains fair game, barring some local regulations. … In two different [out-of-home] campaigns, [Jay-Z's] Monogram created provocative ads calling out the divide in legalization across states and the hypocrisy of America's drug policies."
Remove Jay-Z's global star appeal from the equation, and it still likely would have been a major success for Monogram as a cannabis brand. Monogram's campaign included a form of out-of-home advertising you're likely most familiar with: billboards. They come in all sizes and today can be static or digital.
But undoubtedly billboards are effective at communicating a simple message to captive audiences. They become more eye-fetching if digital and more captivating as digital marketing improves.
Some are small and low to the ground but create nonstop impressions in high-traffic urban areas. In many Midwest and Great Plains states, billboards are grander and taller in size and visible from long distances. In both environments, billboards reveal how repeat impressions can be just as important as first impressions for fostering brand loyalty.
They can create months, years, or decades of deep impressions. The most visible consumer brands on the planet also have some of the biggest budgets for marketing, advertising, and brand reputation anywhere and spend widely on billboards despite being instantly recognizable.
In cities, think not just of local residents but also of visiting tourists being exposed to your brand. In so-called "flyover states," think of long-distance travelers passing through who may have been planning a stopover in your town and didn't have a specific dispensary in mind.
Other potential escapes from Facebook jail
Sponsoring a local race club or ball-sports team
Local beer makers do it all the time. Are there adult softball or kickball leagues in your community? Bike and run clubs? People tend to keep and wear commemorative shirts and jerseys from such teams long after the race is over or the season has ended. Each time such a shirt is worn, untold numbers of impressions are possible.
Door hangers and mail circulars
Believe it or not, it is entirely legal for local cannabis businesses to promote the products they sell and their prices on glossy mail circulars through the United States Postal Service. Operators are already doing it. There would also seem to be no obvious reason why cannabis businesses couldn't distribute door hangers that are commonly used by local restaurants and political candidates to advertise themselves..
Murals, green-scaped walls, and street furniture
Retail dispensaries in particular often must forsake a welcome aesthetic by being located in a building with few or no windows that offers greater security. Unadorned and unsightly exterior walls can still be beautified with attractive, shallow-rooted wallscapes that brighten a shopping area, spark conversations, and grab the attention of passersby. Street furniture in a high-traffic area can give shoppers a place to stop and rest — and maybe check out your dispensary. Great murals that tell the story of a community become local reference points and present you as a contributing member of that community rather than someone merely trying to profit from its residents.
If you're not sure if your marketing budget and methods are providing a good return on investment, GreenGrowth CPAs has the industry insight and financial tools to measure and advise on best practices. To get started, call us at 1-800-674-9050 or schedule a consultation at: www.greengrowthcpas.com/get-started